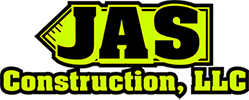 JAS Construction Company is seeking reliable general laborers for both Commercial and Residential Construction.
Experience preferred but not required.
Successful full-time candidates must possess:
• General Construction and tool knowledge
• Ability to communicate effectively with clients and coworkers
• Ability to complete assigned work with minimal supervision
• Clean driving record and valid driver's license
• Must be physically fit and able to lift up to 70 lbs
• Ability to pass pre-employment drug screening
Apply in person or call:
JAS Construction, LLC
801 Genrich St.
Wausau, WI 54403
715-675-0841