EIFS Contractor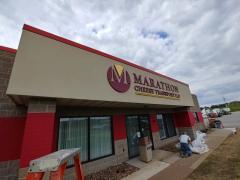 JAS Construction, LLC knows how important it is to keep up with conservation and preservation. JAS Construction, LLC has become the leading provider of EIFS (Exterior Insulation and Finish Systems) in the Wausau and surrounding area.
In the early 1960's, EIFS was first introduced to the United States. Its early uses were on commercial buildings and were later applied to residential homes. EIFS is compiled of the following components:
Substrate
Adhesive
Drainage Plain
Insulation Board
Reinforcing Mesh
Base Coat
Primer
Finish Coat
According to the Department of Energy, EIFS has become the "best performing cladding" when it comes to thermal and moisture control as compared to siding, brick, cement, and stucco. EIFS is not only in compliance with building codes but is also on the cutting edge of energy conservation, reduces environmental impact over the life of the dwelling, and improves indoor air quality.
List of Stucco Jobs completed by JAS Construction:
Starbucks
Jones Reality
Rhinelander Toyota
Crandon Bank
SC Swiderski
Politos Pizza
R-Store
Kruegar Floral
Riverview Towers